---
The Ultimate Guide to Ubud, Bali
The Ultimate Guide to Ubud, Bali …It's impossible to think of Bali these days without referring to the famous movie Eat, Pray, Love starring Julia Roberts. Since the release of that movie Ubud has seen a surge in foreign tourists flocking to the town for spirituality and a rare glimpse of the infamous medicine man, Ketut. Whilst there are a hefty number of yoga studios, meditation centres and happy hippies floating around, there's more to Ubud than simply what's portrayed by tour companies and touts.
This ancient kingdom located in the centre of Bali surrounded by rainforests, rice paddies and holy temples is a great place to base yourself while exploring all there is to see in Bali. Ubud itself however, has earned it's place as one of the best spots to visit in Bali and rightfully so. With a light summer breeze surrounding the town year round, Ubud enjoys beautiful tropical weather with less humidity than the popular beachside towns of Kuta or Seminyak.
The lush surrounding rainforests, low rise buildings and beautiful landscapes are what attract millions of tourists each year.  You will quickly feel like you've been transported back to an ancient Kingdom as hotels and guest houses are build around ancient ruins and period landmarks.  It truly is a magical place to explore.
Streets lined with sarongs, wood carvings and an array of handicrafts might overwhelm you at first, draining your budget on the first day! But make sure to keep some for exploring the surrounding area, indulging in the delicious balinese food and of course a Traditional Balinese Dance that takes places every night in one of the many sacred temples dotted around the town.
We had an amazing time exploring the streets of Ubud and we've picked our top things to see and do while you're there.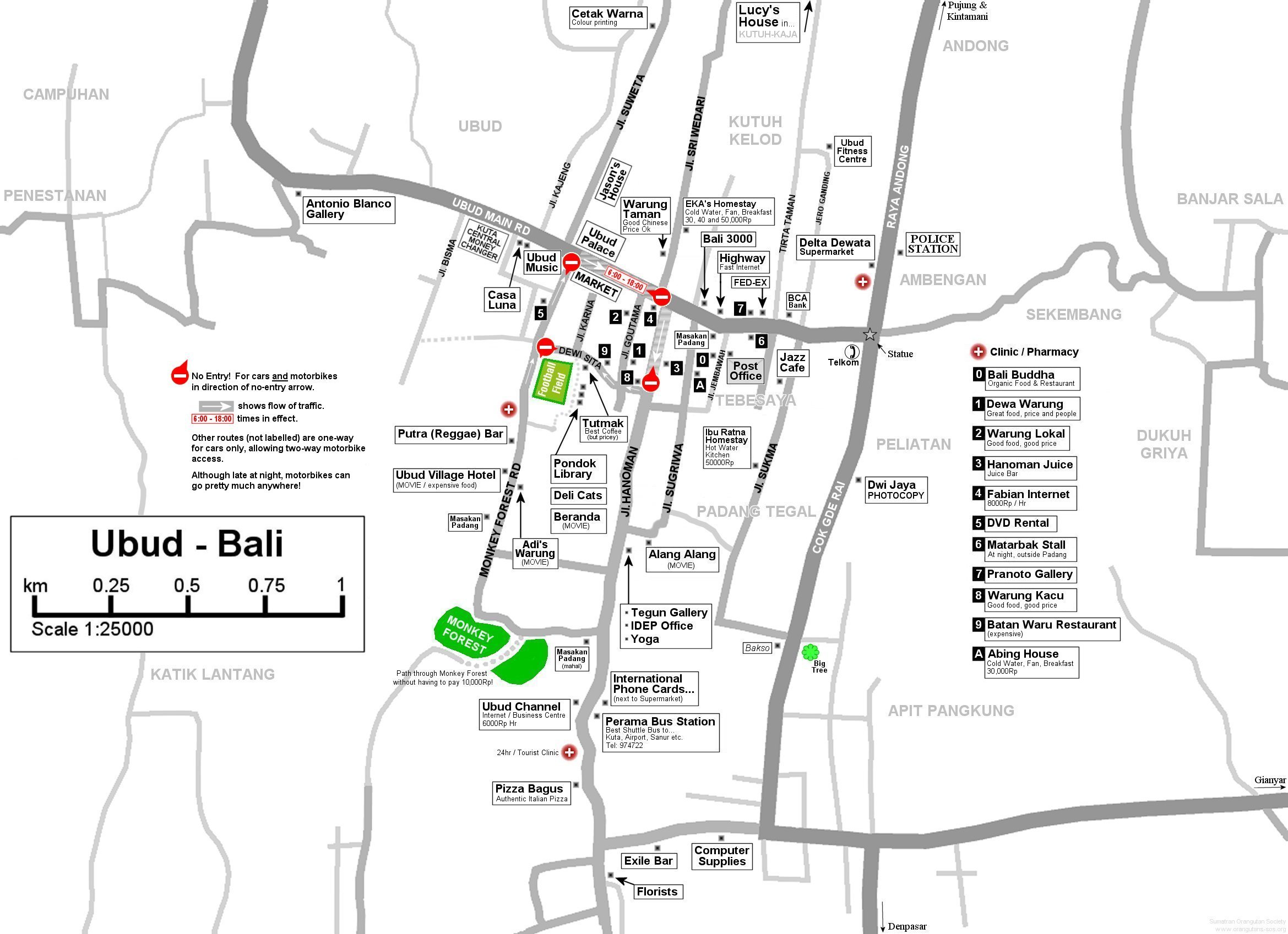 Where to stay in Ubud
One of the things we found a little difficult when we first arrived in Ubud was finding a place to stay. This wouldn't have been an issue if we had done our research and booked in advance, but we're strong believers in haggling our walk-in price and being able to see the rooms before we decide on a place.
There are many streets "Jalan's" to stay on. For something a little quieter stay on Jalan Bisma, with only a short walk to the main strip and enough restaurants, coffee shops and marts to keep you entertained, you can get the rice paddie views and still be in the heart of the action.
Ala's Green Lagoon
With a nice pool, great views and standard rooms at reasonable rates, this place is a great option for anyone looking for tranquility.  We stayed here for the duration of our stay in Ubud, in both the standard room and luxury room.  Everything was clean, breakfast was included and the pool is a great way to escape the heat. We would highly recommend staying here if you want something quiet with a rice paddy view.
SEE https://www.facebook.com/hitchhikinginheels/videos for our room @ Ala's Green Lagoon!
Puji Bungalows
This place is advertised as a hostel and whilst it does offer dormitory rooms for around 100INR in low season, they also have great private bungalows overlooking beautiful gardens for 450INR per night. By far the best "Hostel" we've ever stayed in! They offer breakfast on your balcony included in the price and they have a quaint infinity pool.
Mango Tree
This budget option with private rooms or dormitories with shared bathrooms, restaurant and relaxation area is a good choice if your budget is limited. The restaurant offers a good selection of western and Indonesian meals for reasonable prices.
Aside from Jalan Bisma you can opt to stay on the busy Monkey Forest road, Jalan Pengosekan or Jalan Hanoman. You can find all options to suit your needs from Hostels, Homestay's or midrange Hotels.
If your an expat/nomad and you plan to stay in Ubud for a longer period of time you would be more suited to Jalan Penestanan. Here you can rent villa's or studios for longer periods for bargain prices. You will be sure to run into a few foreigners who were passing through Ubud and haven't quite made it out! We certainly met a few!
If you feel like splashing out, a great luxury option is the Four Seasons at Sayan just minutes from Ubud Central yet miles away from it all.  A truly tranquil experience that will leave you feeling relaxed and rejuvenated.
---
What to do
There are many things to see and do in Ubud and the surrounding area but here are a few things we think are a must see during your stay.
Monkey Forest
Located in the heart of ubud and filled with hundreds of fiesty monkeys determined to get their hands on any food you have, this can be a fun way to spend an afternoon.  Some good photo opportunities to be had so make sure to bring your camera!
Talangalan Rice Terraces
Rent a sccoter for 50,000INR per day, grab a map and make your own way to Talangalan. You can ride at your own leisure, stop when you feel like it and save yourself a fortune. The roads aren;y too crazy so riding around is safer than you think.
Andong Road
The road that leads to Talangalan is filled with local artists, wood carvings, colourful painted signs and other creative creations. Spend the afternoon cruising this street and you'll be sure to leave with your bags filled with something. The prices are much lower here than in central Ubud.
Water Temple/Rock Temple
Somehow we missed this temple and ended up in another just as beautiful one a few hundred yards away.  They are both within five minutes of each other so if you park up you can walk to both. These are places of worship and prayer so it's best to be prepared with your own sarong. You'll be persuaded by the many hawker sellers to buy one, saying "you need for temple" but you can actually borrow one on your way in when you buy your ticket. No need to buy one if you forget your own.
Elephant Temple / Waterfall
Both located within about 10-15 minutes from each other and just short of 30 minutes from Ubud central, they are easily found by scooter. We got lost a few time but if you stop and ask the locals they will happily point you in the right direction. Be prepared to pay around 10,000INR for parking on your way out, unless you're savvy and park a short walk away from both.
Traditional Dance
At one of the many temples in central Ubud you can experience a traditional performance for around 80-100,000IND. Depending on your luck you can spend the evening enjoying the sounds and colours of a beautiful performance from traditional local artists or you will have to enjoy screeches, awkward patrons leaving early and a badly performed (possibly) traditional performace from con artisits. We enjoyed the latter. We're not to sure how it works for each show or if the same cast perform each night. The best advice we can give is to ask around tourists leaving the performances at around 8:30 pm to get some recommendations on the best one to see. But you simply can't leave Bali without experiences one traditional performance. Their costumes, hand movements and traditional songs all make a great memory of Bali.
---
The Ultimate Guide to Ubud, Bali
Top Tips :
Haggle around for prices to the Gili's or other destinations. Most tourist offices' will start at an elevated prices, low blow and you will start a haggling war. The locals seem to like this and it's your best way to get the best price.
Fill up your water from various cafe for a fraction of the price. Use your own bottles or recycle old ones. Save money and the planet!
Also buy your water from the local marts as opposed to the 7/11 stye marts. You can get a large water for 5-6,000INR as opposed to 10-20,000INR.
If you stay longer than a few days you can negotiate on prices for your accommodation and a moped.
The best way to get around is by renting a moped. If you plan to stay for a few day, we recommend getting one as soon as you arrive, negotiate your price and save money and time walking around. The town is spread out and most attractions are too far to reach on foot.
Pick up free map from one of the many tourist information offices.
Ubud is an amazing little hidden gem and a must see if your making the trip to Bali!
Let us know what you think is a must see on our next trip to Bali!!!
Recommended Posts
December 01, 2016
November 24, 2016
September 28, 2017